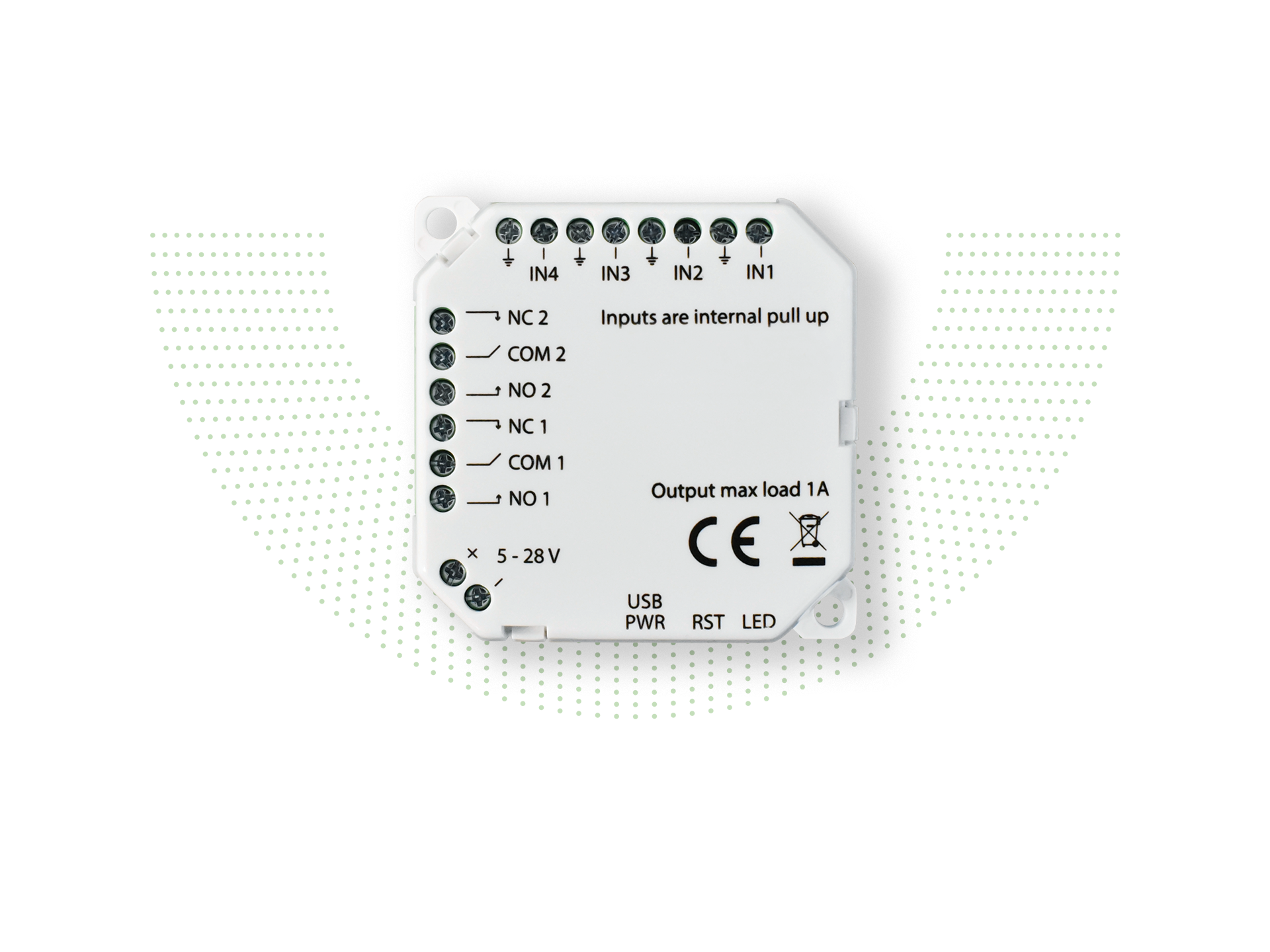 Bring your wired devices online
IO Module
Imagine having a frient who helps you automate your home. Someone who is able to connect even your wired devices to your smart home system, so you don't need to replace them with new smart versions. A frient who smartens up your home while protecting your money bag.
Now that's a frient!
Make your wired appliances smart
The friently IO Module acts like a bridge between your analog, wired devices and your wireless smart home network, so you can make your analog devices work with your smart home.
It can be installed in different types of devices like blinds, garage doors, or heat pumps. Just connect your wired device to the output part of the IO Module to make them respond to events, such as making your electrical blinds go up or your garage door open.
This can be triggered, for example, directly on your smartphone or by another smart home device such as another frient – the IO Module is fully compatible with other Zigbee-based smart devices.
That's what frients are for
Making your wired appliances smart
Letting you control wired appliances remotely
Automating your home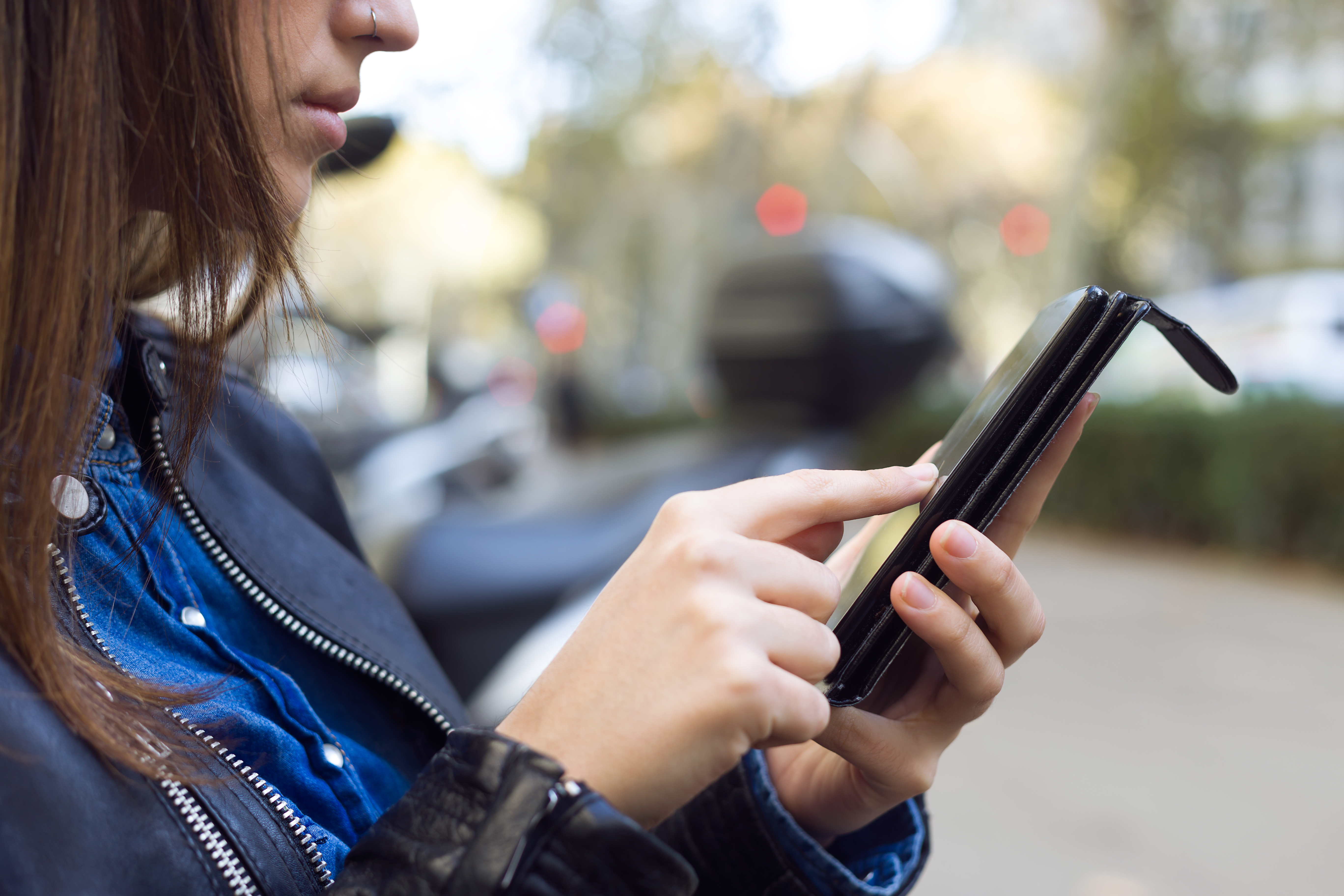 Control wired devices remotely
With the IO Module connected to a wired device, you can easily control the device remotely with your smartphone. This allows you to remote control your electrical heat pump in your vacation house, for example, when you are not there.
The IO Module is also ideal for creating automations in your home, such as closing your electrical blinds when the sun is shining or opening your garage door when your car approaches.
A small frient that fits in almost anywhere
The IO Module has a convenient small size designed to fit into small spaces, for example inside a technical cabinet or behind an electricity outlet. This frient is meant to be hidden while it's working its magic in the background.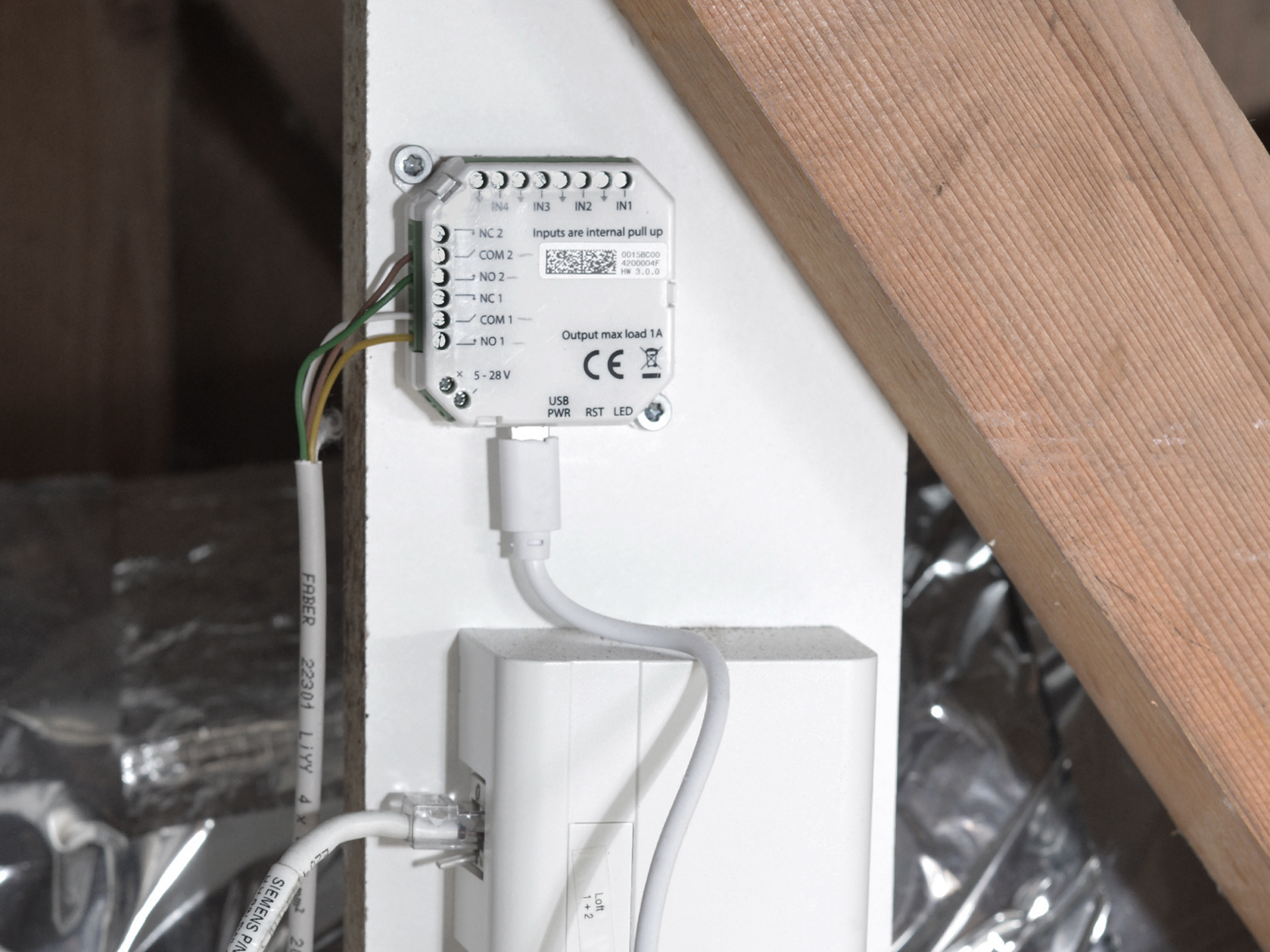 Frients with...
*Not all features supported by all hubs.
** To make the IO Module work with SmartThings, you need to install SmartThings Edge drivers. You can download them here.
Specifications
Communication protocol: Zigbee
Power supply: 6 - 28VDC (alternatively uUSB - e.g. for power bank)
IP class: IP20
Operation temperature 0 to +50°C
Color: White
Dimensions: 45 x 16 x 45 mm
See all specifications
General
Dimensions (W x D x H): 45 X 16 X 45 mm
Weight: 24.8 g (with packaging: 41.5 g)
Color: White
Power supply:

6 - 28VDC (alternatively uUSB - e.g. for power bank)

Power consumption: 0.3 W
Radio
Sensitivity: -100 dBm
Output power: 12 dBm
Environment
IP class: IP20
Operation temperature 0 to +50°C
Relative humidity 5% - 95%, non-condensing
Functions
Output:

2 pcs NO/NC - on/off or pulse
Max switch voltage: 30V
Max Switch Current: 1A

Input:

4 pcs contact input (potential free switch or relay) NO/NC by SW
Each input can be configured as an IAS alarm
Communication
Certifications
Conforming to CE, FCC, IC, ISED, RED, RoHS, and REACH directives
Zigbee 3.0 certified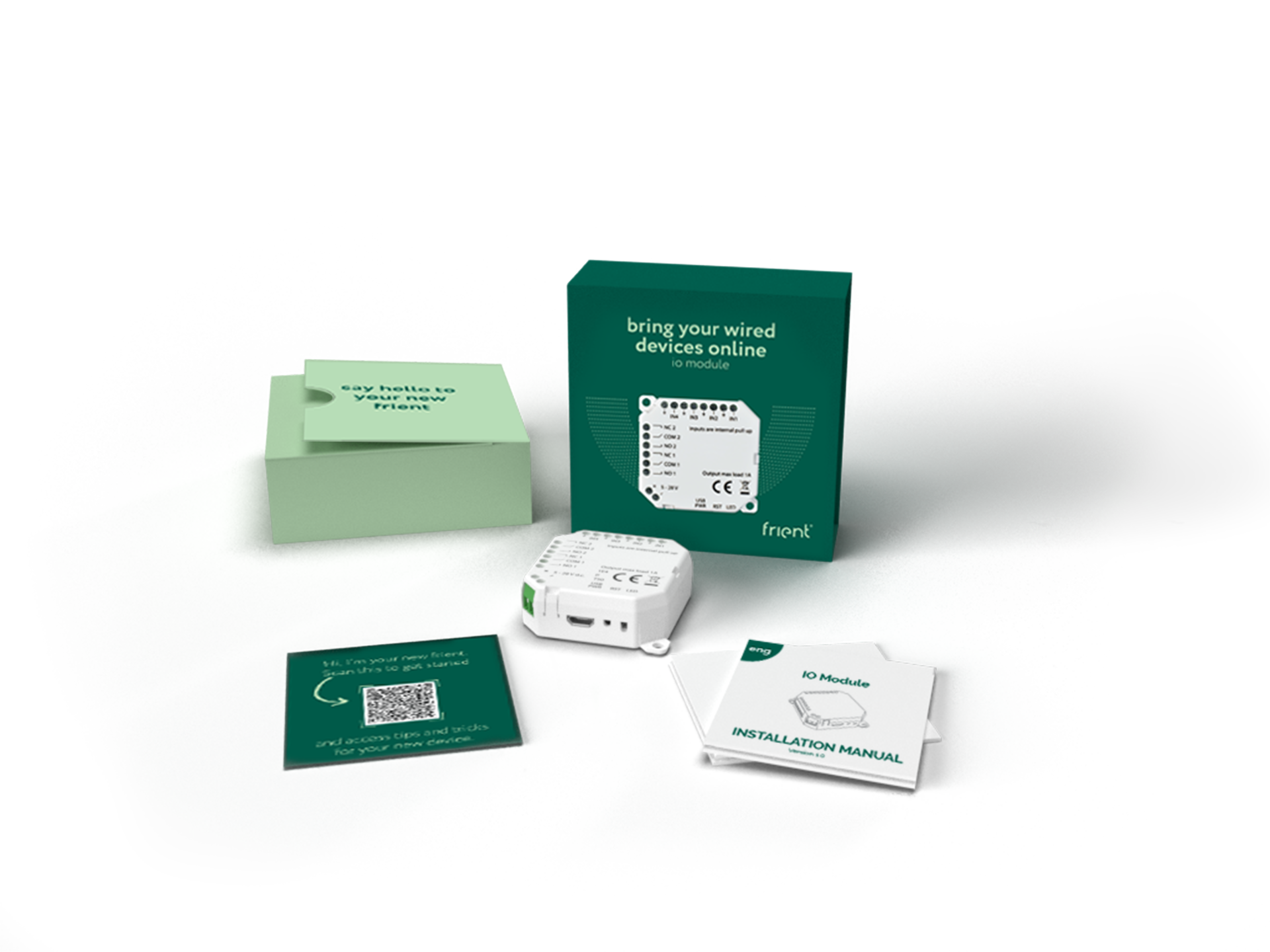 Get started with your new frient
Download the installation manual here.
Wanna be frients?
Stay in touch with your frients. Be the first to meet new frients. Sign up for the frient newsletter.
News from the friently IO Module